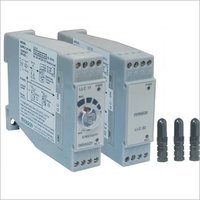 Water Level Controller
Product Description
Water Level Controller
Backed by the team of adroit professional and experience in this industry, our company has emerged as one of the renowned manufacturers and exporters of Water Level Controller. Precisely engineered as per industrial standards and norms, these controllers are highly used in homes, schools and buildings for controlling the overflow and wastage of water. Durability, rugged design and impeccable performance are the common features of Water Level Controller. Our quality analyzer stringently checks these water controllers on various quality standards before delivery to clients.
Further details:

Applicable for

Electrically Conductive (Sensitive) liquid like water and
Electrically Non-Conductive liquid like diesel, oil etc.
Input Sensor (1) For conductive liquid, use a three sensing electrode [High (H), Low (L), Ground (G)] of suitable electrically Conductive metal (like stainless steel) and (2) For non-Conductive liquid, use a two set (High (H) & Low (L) of float type magnetic reed switch sensor.
Liquid Sensing to relay tripping time delay is less than 1 sec.
Electrode Maximum Voltage : 24 VAC & Current : 1 mA (50/60 Hz)
Galvanic isolation via transformer.
Relay Output : One Change over (1CO), 5A @ 230VAC/28VDC resistive load.
Size : [22.5(W) x 75(H) x 105(D)] mm. (Refer Fig. 13)
35 mm. Rail Mounting or Screw Mounting.
Order Code : MODEL-SUPPLY, Ex. : LLC-11-230V.
Model

Function

Supply Voltage

LLC-11

Single / Double Level Control-Adjustable Sensitivity of liquid

1) 24 VAC 2) 110 VAC

3) 230 VAC 4) 415 VAC

LLC-22

Single / Double Level Control-Fixed Sensitivity of liquid
Contact Us
F-4, Laxmi Industrial Estate, Jay Ambe Temple Road, Bhayandar (W), Dist:Thane, Mira Bhayandar, Maharashtra, 401101, India
Phone :+918068214131